Home >What Makes Us Different
John Castellano is the man, the myth, and the legend behind Castellano Designs. Not one to be satisfied with inferior technology, John's passion is envisioning new directions in bicycle technology. He strives for simple, elegant design solutions to give you solid performance and value in innovative American-made products.

Castellano's background is central to the creation of the unique, outside-the-box designs he is known for. John has been fiddling with bikes ever since he was old enough to straddle a two-wheeler. As a child, he was always building, riding, jumping, thrashing, and then rebuilding his bicycles. Then he began to modify his bikes to his own liking. Soon he was spending as much time modifying his bikes as riding them. Unbeknownst to him, this experimentation was an early introduction to bicycle engineering that would lead eventually to a degree in mechanical engineering from MIT. John's been a dedicated mountain biker for 20 years, and for the past 15 years his profession has been designing, building and testing innovative bikes and wheelchairs.

An early example of John's out-of-the-box thinking

This 1970 "Chopper" was built on a 24" cruiser frame, with 20" wheels, kicked-out extended fork, ram-horn handlebars, and a banana seat with full-height sissy bar. Converse All Star high-tops complete the styling package.
To bring his designs to life, Castellano combines powerful computer analysis with constant on-the-trail testing. John learned to design and analyze suspension systems and pivotless flexures in his mechanical engineering curriculum at MIT. Then for five years Castellano was a "rocket scientist" at Hughes Aircraft Co., designing and testing ultra-reliable sensors for satellites and the Space Shuttle, before turning his design talents to mountain bike technology.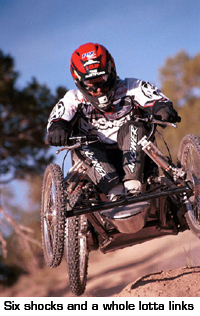 John has been involved in the bike industry for 15 years. He began his fabrication career in the late 1980s building custom Off-Road Wheelchairs. During the 1990's Castellano developed and licensed his Sweet Spot® Suspension System to the likes of Schwinn, Ibis and Rocky Mountain, among others. Recently, Castellano designed tires for Geax, fork linkages and dampers for Interloc, softails for Ibis, and has served as an industry consultant.

While developing the Sweet Spot suspension, John became intrigued by the idea of incorporating spacecraft-style pivotless flexures into his long-travel suspension system, and began modeling and testing pivotless prototypes. This work culminated in the Ibis BowTi, the ultimate expression of his Sweet Spot Suspension. With 5" of travel and no pivots, the titanium BowTi is in a class by itself. Castellano's next inspiration led to the SilkTi and Ripley softails, also built by Ibis, featuring John's pivotless Flat-Plate chainstays and Critically Damped Elastomer shock.

John recently had the honor of displaying the SilkTi and BowTi at the Smithsonian National Museum of American History in Washington DC. He was one of only 24 inventors in the nation selected to participate in the Re-inventing the Wheel Innovators' Exposition, which was part of the museum's Invention at Play program—a theme John is very familiar with.
---

The Ibis Connection (Ibis R.I.P.LEY)
We at Castellano Designs have long held a special place in our hearts for Ibis. So when Ibis filed for bankruptcy, we were understandably disappointed. Castellano and Ibis had been collaborating for nearly 10 years on projects, and that collaboration had brought four excellent designs to market. The first two were the Sweet Spot® suspension Szazbo and BowTi bikes. A little later came the pivotless softails, the SilkTi and the aluminum RIPley.

We're really not sure of the fate of the Ibis brand. In 2000, 20 years after Scot Nicol founded Ibis, he sold the company to private investors who took over the management. Now it's gone, probably forever. Our Sales Manager, David Peoples, was a longtime key Ibis person, and we often run into someone from the old crew around town or on the trail. We still hang out and ride regularly with Scot Nicol, and we share with him a lifelong love of riding and bicycles. Scot infused Ibis with his spirit and passion and joie de vivre. Although Ibis is gone, that spirit lives on.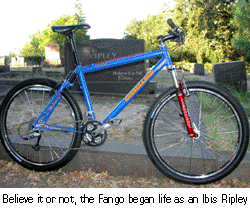 Ibis Goodies
The RIPley has been reborn as the Fango, and we're working on the resurrection and further refinement of the bikes formerly known as SilkTi and BowTi. We like to take care of our customers, so here at Castellano Designs, we're also making every effort possible to provide technical support and many replacement parts for all the models we've designed in the past for Ibis. We're building up an inventory of shock parts (SilkTi, Ripley), shocks (BowTi, Szazbo), suspension pivots (Szazbo) and replaceable derailleur hangers (Ripley, Szazbo, Alibi). Click here for info related to any replacement parts. If we don't have it, we'll see if we can get it!
To find out more about Ibis Suspension Parts, click here


Future Products
There are many more of Castellano's designs in the pipeline. In addition to updating and refining his pivotless Ti softail and Sweet Spot suspension frame designs, John's always experimenting with suspensions, shocks, tires and other secret stuff, and there's always a new prototype under test. Stay tuned.